How do you pick a VPN? Wrong every time (with all due respect to The Marx Brothers). A joke? Yes and No. The vast majority of articles about VPNs do, in fact, use the wrong criteria to judge them. If they even make judgments at all, many are marketing disguised as reviews.
I could go on at length about this, but this short blog is just to make you aware of an off-the-beaten-path criteria for judging a VPN provider - their website.
This was brought to mind by a recent (Aug. 8, 2019) blog by Yegor S of Windscribe VPN that discussed the trackers on the websites of assorted VPN providers. Needless to say, since this came from Windscribe, their website scored well. But, it was an honest article, in that it pointed to other VPN providers that scored even better than Windscribe.
Clearly Yegor was having fun poking fun at the VPN providers whose websites are infected with tracking/spying/telemetry. Still, his point is one that I agree with: a company selling a security service (which a VPN is) should not be spying on people that use their website.
Cutting to the chase, the VPN provider websites that track users (worst first) are from CyberGhost, IPVanish, PureVPN, Hotspot Shield, NordVPN, ExpressVPN and PrivateInternetAccess (PIA). In contrast, Yegor found no tracking at all on the websites of AirVPN, Mullvad and IVPN.
The tool Yegor used was the Chrome browser. Specifically: More Tools -> Developer Tools -> Sources -> Page. Anyone can do this, even me. So, I did.
I found the website of ProtonVPN does no tracking.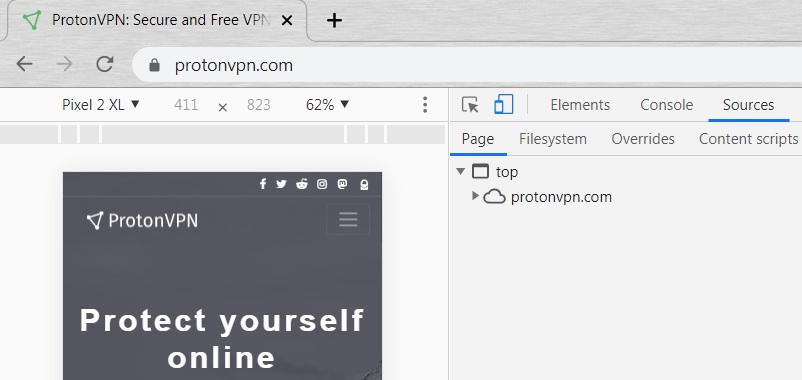 No tracking at ProtonVPN.com
Perfect Privacy VPN uses Google Analytics and Google Ad Services on their website.
Some tracking at Perfect-Privacy.com
I was most let down by F-Secure which does not have a dedicated website for their Freedome VPN product. The home page for Freedome, as you can see below, is infected with tracking.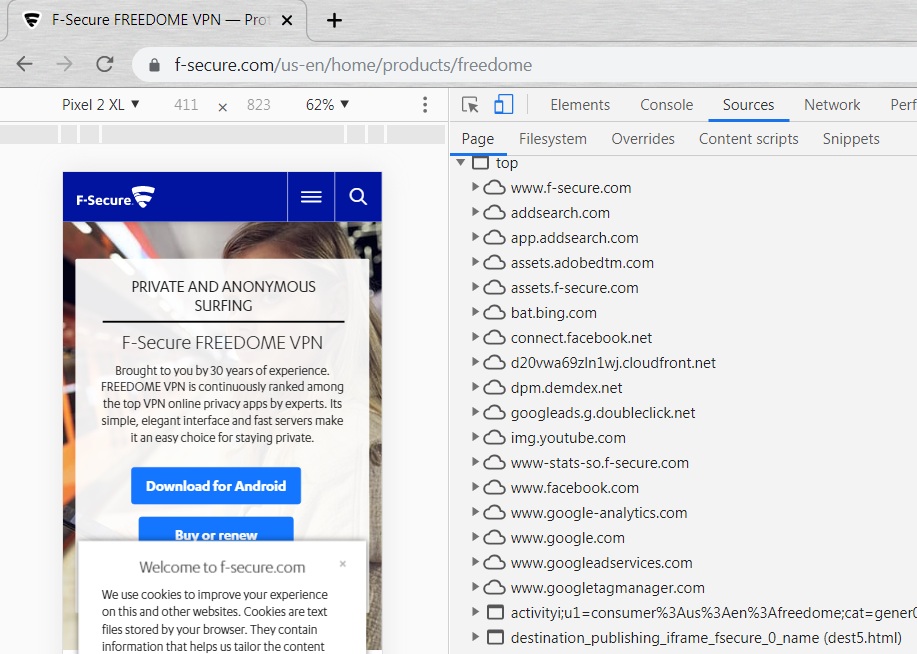 Lots of tracking at F-Secure.com
Not to oversell this. There are at least 30 other yardsticks by which to judge a VPN provider. But, the tracking on their website is something to consider.
Update: August 12, 2021. Another article on the same subject: How Private Is My VPN? by Alfred Ng of The Markup. August 12, 2021
- - - - - - - -
Speaking of oddball criteria, not too long ago there was a story about Android VPN client apps that requested all sort of permissions that are not necessary to provide VPN service. My favorite never-mentioned VPN attribute is whether the VPN software can firewall off the device it is running on from other devices on the same LAN. To me, this is seriously important, yet no one ever brings it up.
Update: August 5, 2021. I finally wrote this up: Hiding on a Wi-Fi network.